Hello my dear ones,
I am so blessed to be able to share some ideas with you through this venue. Since Im (im)patiently waiting for my new Spring Catalog goodies (they should be here tonite, yipee!) I pulled some things from my Stampin'Up close and start creating!
Here is the whole process...took me only about an hour after I knew what I wanted. Counting that having 3 children provides for interesting 'rest' stops during my creative process. If you are a crafty mama you know what I mean. Lol!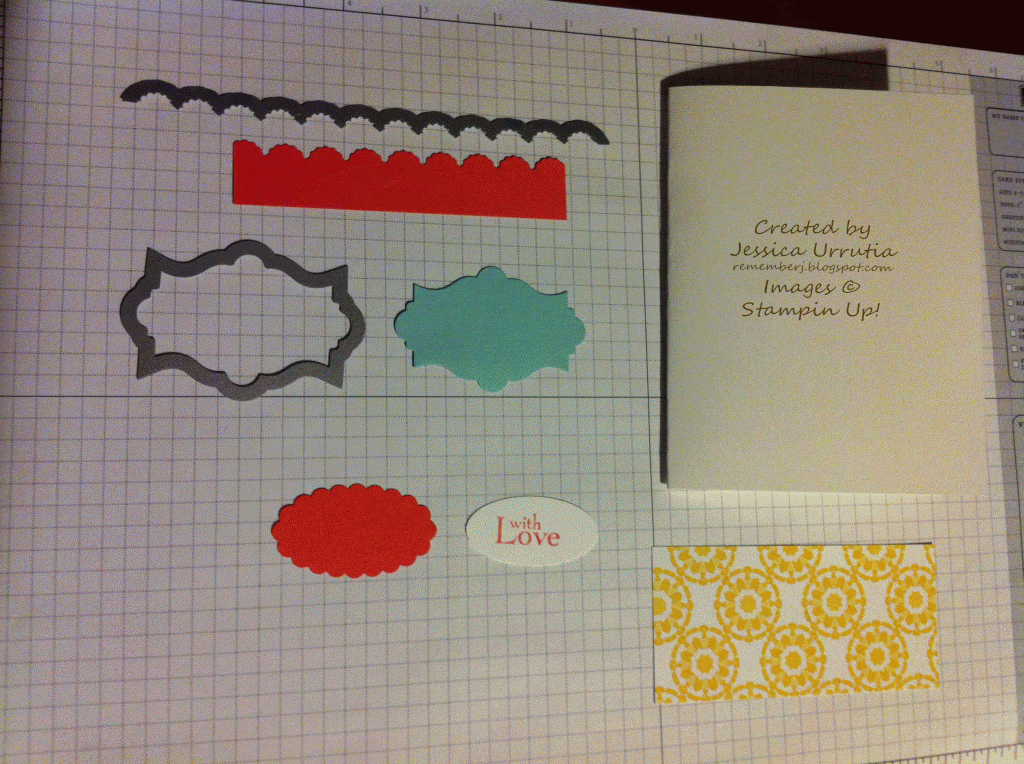 5 1/2" x 8 1/2"" piece of Whisper White CS, fold in half on the 8 1/2" side
a piece of about 2" x 4 1/4" International Bazaar DSP...I trimmed as desired later on
Punched one Scallop Oval out of Calypso Coral CS
Stamped sentiment from Field Flowers "With love" on WW CS ad then
Punched with the Lg Oval punch
Die cut a frame with Apothecary Labels Framelits on Pool Party CS
Die Cut with Border Framelit a piece of 1" x 4 1/4" Calypso Coral
Here are some card sketches I drew before creating while folding laundry...yeap, is good to have pen and paper close by for when those ideas hit you.
My main inspiration came from a card in page___ of the Main Stampin'Up! catalog. I just dont have that stamp background as of yet...sooo I got creative!
I stamped my main flower on Calypso Coral Ink on the right first then on the left as shown below.
Last cute embellishment is our new stitched grosgrain ribbon on Daffodil Delight.
I used some dimensionals and Snail Adhesive.
The inside
So do you like the end result? Hope you do!!
Leave me your love with your comments and share with me what are you looking ideas for...would love to provide you with cool ones. :)
In other totally different project...If Im not cleaning, cooking, serving or playing then Im really trying to convince my picky eaters (young ones btw) that vegetables are very good for you. Sooo this year I just started implementing a new rule...Main Dish comes after trying new veggies and fruits.
Dont worry after their tiny green bean and 2 blueberries they had a good dish. Have mercy, this is such a looong process! Lol!
What are some of your New Year Goals! Il talk more about my crafting goals tomorrow and a few more.
Many blessings!
Jessica U
www.rememberj.blogspot.com